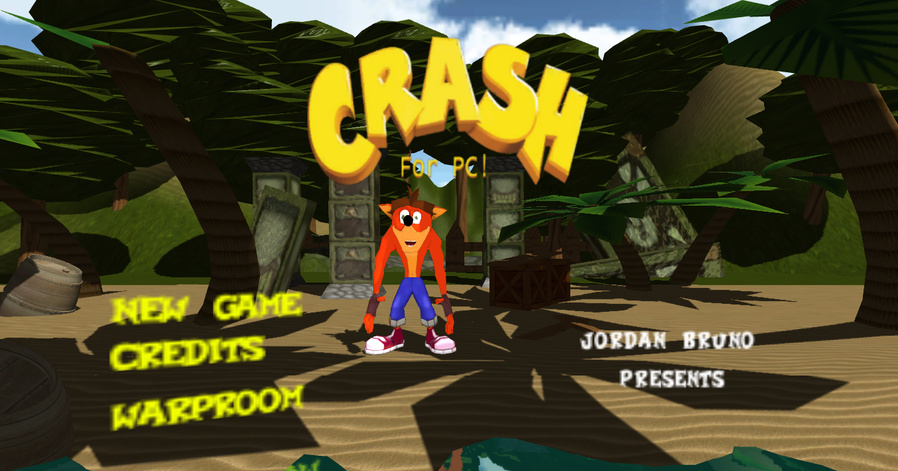 Crash for PC
A downloadable game for Windows
There is Crash Bandicoot returns to PC platform with full 3D Env, With all the same items as Original Crash Life,Fruits,Crystal,Enemies and others...
For this time is some levels including the Warp Room Original Crash Songs and Sfx. I´m not planing for this be a story game just a arcade with Secrets,Quick-Cutscenes,Bosses and more stuff... I´m using for the game Blender,Sketchup2014,Texture.com,Image Editor. I´m playing some crash games to enter on the mood. None of these levels are official from the Original Crash roms.
I´m using a Pre-Made pack you can download it below, check out other fangame of crash below too FULL SCREEN NOT RECOMMENDED, But hey enjoy it!
All rights belong to Naughty Dog, Activision and The Pack Marker.
Leave your vote it helps me a lot!
The pack ->> https://www.dropbox.com/sh/4oqci7opq3vw9rh/AACC1SBXx57oYtNcMbnZNjv1a?dl=0
The Fan-made-->> http://gamejolt.com/games/platformer/crash-bandicoot-crystal-forever-fangame/39001/
Also check out the Quality log here.

//Quality//

//PS1//

*Rendering
Pixel Light Count = 0.0
Texture Quality = QuarterRes
Anisotropic Textures = off
Anti Aliasing = off
Soft Particles = off
*Shadows
World Shadows = off
Shadows Resolution = Low
Shadows Projector = Stable fit
Shadows Cascades = off
Shadows Distance = 15.0
*Other
Blend Weights = 1Bone
Vsync Count = off
Lod bias = 0.3
MaxLod Level = 0.0
Particle Raycast = 4.0

//PS2//

*Rendering
Pixel Light Count = 2.0
Texture Quality = Full Res
Anisotropic Textures = Per Texture
Anti Aliasing = off
Soft Particles = off
*Shadows
World Shadows = off
Shadows Resolution = Medium
Shadows Projector = Stable fit
Shadows Cascades = Two Cascades
Shadows Distance = 40.0
*Other
Blend Weights = 2Bone
Vsync Count = EveryVBlank
Lod bias = 0.1
MaxLod Level = 0.0
Particle Raycast = 256.0

//PS3//

*Rendering
Pixel Light Count = 3.0
Texture Quality = Full Res
Anisotropic Textures = Forced
Anti Aliasing = 2X Multi
Soft Particles = on
*Shadows
World Shadows = on
Shadows Resolution = High
Shadows Projector = Stable fit
Shadows Cascades = Two Cascades
Shadows Distance = 70.0
*Other
Blend Weights = 4Bone
Vsync Count = Every VBlank
Lod bias = 1.5
MaxLod Level = 0.0
Particle Raycast = 1024.0

//PS4//

*Rendering
Pixel Light Count = 4.0
Texture Quality = Full Res
Anisotropic Textures = Forced
Anti Aliasing = 8X Multi
Soft Particles = on
*Shadows
World Shadows = on
Shadows Resolution = VeryHigh
Shadows Projector = Stable fit
Shadows Cascades = Four Cascades
Shadows Distance = 150.0
*Other
Blend Weights = 4Bone
Vsync Count = Every VBlank
Lod bias = 2.0
MaxLod Level = 0.0
Particle Raycast = 4096.0